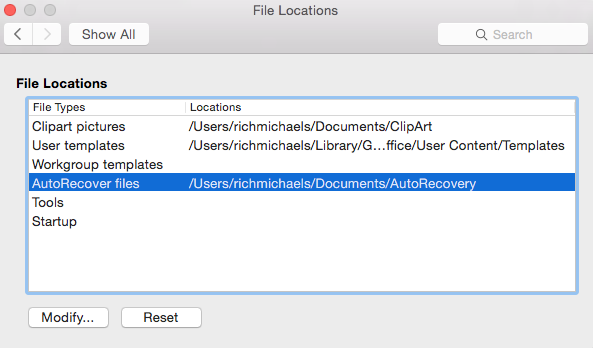 Word is unable to save the AutoRecover file in the location you have specified. Make sure that you have specified a valid location for AutoRecover files in Preferences, and that you have permission to write files to the location you specified.
If you get into this error massage check if there is any location set for the autorecovery files (I had it empty), and change it or set one:
Go to: Word > Preferences (or press ⌘,) > Personal Settings > File Locations.
Either double click on "Autorecover files" or single click and then click on "Modify".
Pick a folder and then hit "Open" I have it in Documents > Microsoft > Office 2011 Autorecovery.
Avoid folders where Word app can get into trouble with file permission (changing or saving). Also, if you use Desktop or other folder that is synchronized with iCloud, be aware that large documents need more time to upload. A small internet connection might block word access for quite a long time and this message can become quite frustrated.