An album art (album cover) is the front of the packaging of a commercially-released audio recording product, or album. Almost all media players nowadays has the ability to display the album art for the audio files. And this players may be on a windows PC, a mac, linux PC or in portable devices like ipods, mp3-players, phones, tablet PC ….
A question that came in my mind these days was, how to add album art to my mp3 files?
To listen to music I'm using winamp on my home computer and the build-in player from my android phone. Both are showing the album art of my mp3 files. The problem is that not all my mp3 files has the album art… actually, just a few of them.
How can I add album art?
First, I tried using Winamp (right click -> "View file info…" -> Artwork tab -> Download Art). This method is ok but the album art was saved in distinguish jpg's file next to my mp3's. It's working fine in winamp but if I have to move some music to my phone or if I want to share it with my friends over the internet I had a problem. And that's because I also had to send the jpg file along with the .mp3 and also to be careful that this jpg file stay inside the same folder as his associate mp3. Not good enough I thought.
How can I include album art inside mp3 file itself?
This was my next question. And that came to me because I saw that some .mp3 file already includes their album art (image) inside the .mp3 file itself. How can we do the same trick with our favorite music or music found on internet?
[soundcloud url="http://api.soundcloud.com/tracks/85270236″ params="" width=" 100%" height="166″ iframe="true" /]
The solution is simple: we need a little more advance tag editor like Mp3Tag. I better take an example to show you exactly how to include album art on your mp3 files using Mp3Tag.
1. Download and install Mp3Tag.
2. Search, download and save the album art for your mp3 file. I recommend a search by album name on Google images. Recommended image size of 300px × 300px.
3. Open your mp3 file with Mp3Tag.
4. On the down left side you have the album art option. Right click and select "Add cover…"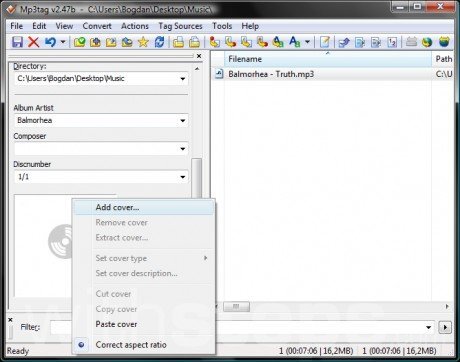 Browse and select your album art file saved on step 2.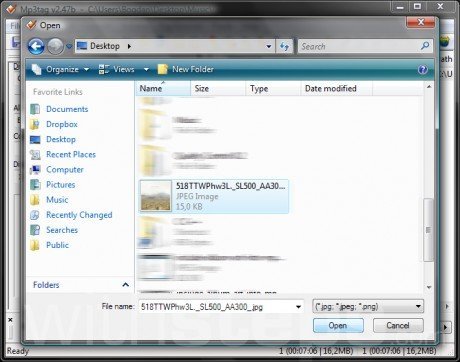 5. Right click on the mp3 file and select "Save tag" then OK.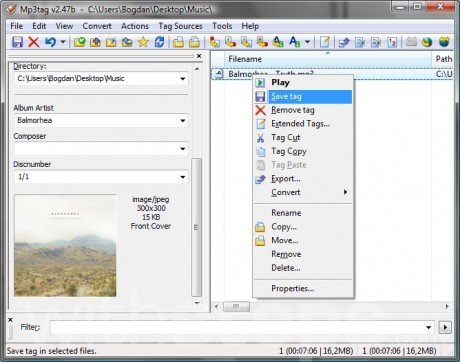 And this should do the job.