I recently got into trouble trying to scan around 50 pages using my home scanner. I use a HP Officejet 4500 that have an automatically feed scanner that is able to scan one sided documents. Unfortunately, all my pages were double-sided.
At first I tried to manually scan page by page but I abandoned this action very quickly while 50 double-sided pages require a lot of time and effort. So I had to search for better solution… The best and easy one is to scan all pages only on side and then put them back into scanner and scan the other side. I got 2 different .pdf files and I needed a tool to somehow put them back in order. And that piece of software is called PDF Split and Merge. I guess you can also find other solutions but this one I find it easy to use.
So … If you have a single sided scanner just:
1. Scan all top side of all pages … let's call this file odd.pdf. This files will include pages 1,3,5,7… in this order.
2. Scan all bottom side of all pages … let's call this file even.pdf. This file will include pages … 8,6,4,2. This will be in the reverse order.
3. Install PDFSAM software.
4. Open PDFSAM and add your pdf files.

5. Be sure you select the "Alternate Mix" plugin and a destination file for your complete scan. Press the RUN button.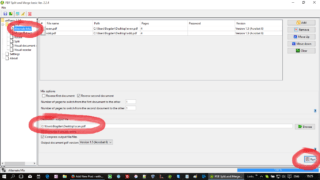 6. Check out your file and enjoy.
For this tutorial I've used and created this files:

Download "even.pdf" even.pdf – Downloaded 215 times – 85 KB
Download "odd.pdf" odd.pdf – Downloaded 179 times – 86 KB
Download "scan.pdf" scan.pdf – Downloaded 238 times – 164 KB