1 Answers
Hi there,
if I got it right, this 1926 error occurs during Windows 7 Installation or during other SW installation.
The reasons behind the error is "low disk space" or the lack of access to specific locations or windows tools.
"Error 1926. Could not set file security for file 'config.msi'
If you try to install a software then I recommend you to right click on the installation file and use "Run as administrator" option. This will give the the installation file all the rights he needs (e.g. copy files into C:\Program Files\)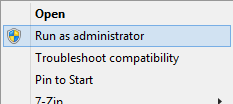 Let me know if you need further help! Have fun!