BOX.com is an online service for file sync/content management on a cloud based server architecture. Similar with the well know services like Dropbox, Google Drive or Microsoft SkyDrive. BOX offers file synchronization between different platforms like mobile, desktop PC, mac PC, Linux PC or over an online website/platform.
A recent problem has been reported by desktop users of BOX Sync software. There are some cases when the software stops synchronizing the files correctly and is getting stuck with a message "searching your computer for updated files…". Usually is getting stuck at 13% or 14% and start using all the free RAM memory. The computer is getting slowed down radically, practically impossible to be used.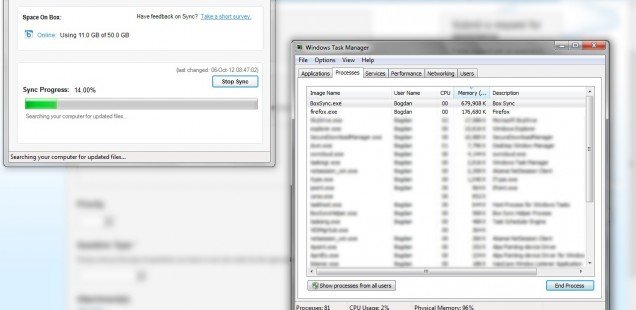 The solution to this problem is to delete some sync database files.
1. Close BOX application
2. Open a file browser windows and go to "C:\Users\Bogdan\AppData\Roaming\Box Sync" (change C: drive with your windows drive if different and "Bogdan" with your username)
3. Delete files:
syncdb.sqlite3
syncdb.sqlite3-journal
4. Check if you tried to sync large files (like 1GB or more). If is the case, remove any large file from the Sync folder and open BOX sync again.
And this should fix the problem. Have fun!